Hello! I'm selling all of my cherished clothing to fund an upcoming trip and pay for school books. I need money badly at the moment, but I still really hope these pieces go to a good home. I've spent years creating this collection and hope someone who buys something from it with cherish it. Thank you for looking!
1. ムチャチャ / MUCHACHA 2008 あかずきんptパッチ ワンピース (red riding hood OP) a gorgeous silk tunic with a nathalie lete print

proof:

an original rakuten listing here width: 37.5 cm length: 55.5 cm sleeve length: 49 cm shoulder width: 25 cm
condition: 4/5 original price: 15,750円 ($159)
my price: $88 shipped in the US with paypal fees
2. Muchacha Rabbit Ear Hooded Tunic / あちゃちゅむ うさぎワンピースうさ耳フード
proof:


my price:$43 shipped in the US with paypal fees
here's a link to a similar one currently listed here
here's a photo of me wearing it:
3. SM2 knit stole


condition 4.5/5
my price: $10 shipped in the US with paypal fees
4. あちゃちゅむうさぎジャガード タンク (muchacha rabbit tank)
lovely breathable tank with velvet printed rabbits and grey inner lining best fits XS/S
proof:


this is a much longer version of the one i own:

condition: 4/5
my price: unsure of the original price and the price i bought it for therefore i'm listing at a low price of $40 shipped in the US

5. Franche Lippee Ribbon Socks フランシュリッペリボンボーダーくつした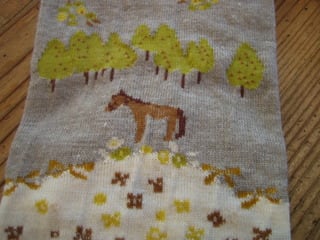 proof:


original price: 3675円 ($38)
my price: $26 shipped in the US with paypal fees
Condition: 3.5/5 (light wearing on bottoms)
6. Franche Lippee Merry Go Round Cutsew (orange)

condition: 3.5/5 (light pilling, reflected in price)
my price: $32 shipped in US with fees (originally over $80)
7. *VERY RARE* 2009 Franche Lippee Goodnight OP / フランシュリッペおやすみOP
The dreamy night time sheep landscape of this is so gorgeous! The material is very light and sheer, it is meant to be worn with a slip. my photo:

photos from the collection:

This is one of my favorite things I've ever owned, the print is so very gorgeous! It is extremely hard to find now, perhaps impossible. It retailed for over $150, but it is well loved and there is some pilling. my price: $88 shipped in the US
8. ムチャチャフェルトどうぶつブローチ / Muchacha 2010 S/S Cat Brooch

my price: $20 shipped with paypal fees
9. SWIMMER bambi iphone 4/4S

used, but in good condition! my price: $7 shipped in the US with fees
10. Franche Lippe X Uniqlo T-Shirt Tunic
Almost new, barely worn. There is a small marker spot in the front which is reflected in the price. Gorgeous forest print!

my price: $16 shipped in the US
11: Heart E Cat Bell Headband

Brand new never tried on/worn $7 shipped in US
12: Lace Cardigan bought on EGL comm sales a few years ago for over $40. Very beautiful delicate lace!

Size Small, never worn outside, just tried on. $30 shipped in US
Thank you so much for looking! Please comment on here if you are interested or with any questions. I'm only accepting paypal at this time.
I'm also considering selling this 2011 S/S Muchacha Rabbit Purse, when the brand wasn't as popular as it is today. It originally sold for 24,150円 and is now rare. My bag is well loved and not in the best condition. Please message me with reasonable offers if you interested, I'll consider it. Thank you.


cross posted to my tumblr